Protection of landscape connectivity for large mammals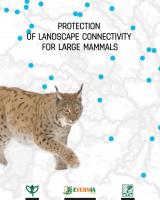 Author: Petr Anděl, Tereza Mináriková, Michal Andreas
Year of publication: 2010
Type: Kniha
Publisher: Evernia s. r. o., AOPK ČR
Published at: Liberec
Pages count: 134
Description
The publication is an output of Project SP/2D4/36/08 "Evaluation of Migration Permeability of the Landscape for Large Mammals and Proposal of Protection and Optimisation Measures", launched by the Ministry of the Environment of the Czech Republic.
It gives overview of biology and ecology of focal species (Eurasian lynx, Grey wolf, Brown bear, Muse and Eurasian Elk), describes the concept of protection of landscapes permeability as a migratory important area and the network of long-distance migration corridors. The publication introduces the readers to the detailed process of design preparation that was created on the basis of biology, ethology, and distribution habitat models of focal species. An integral part of the design of migration corridors has been extensive field survey, which reflected the location and type of migration barriers. The conclusion summarizes the measures to protect landscape permeability for large mammals.
The publiciation was released also in the Czech version with the map of migration corridors.