Luděk the Lynx takes an epic road trip
Bohemian lynx crossed the Danube and wandered to Linz
1.9.2015, Prague Post
A lynx named Luděk who was being monitored in the forest near Prachatice in South Bohemia has mysteriously turned up near Linz, Austria.

Luděk was first photographed by a remote camera operated by ecology group Friends of the Earth in April this year and had been seen several times in the area since then.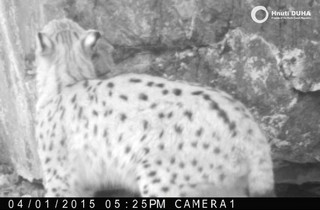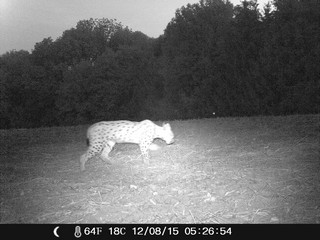 To the surprise of environmentalists, he turned up all of a sudden in Kürnbergerwald forest near Linz, some 70 kilometers away.

The trip would require crossing the Danube River and countless roads including a busy highway near the Šumava mountains.

"A question is how he got across the Danube. Either the young male lynx is a very good swimmer, or he crossed the wide river at the bridge at the Ottensheim power station. None of this, however, is without risk. Clashes with cars on the roads and poaching are the two biggest risks for the contemporary Czech-Bavarian-Austrian lynx population," environmental group ALKA Wildlife, which has been monitoring lynxes including Luděk, said on its website.
Zoologists from ALKA Wildlife and Friends of the Earth have been cooperating with Austrian colleagues from Luchsprojekt Österreich Nordwest to monitor the wild lynx population in Southern Bohemia and Upper Austria. This cross-border cooperation is now producing valuable results, ALKA Wildlife stated.

The current findings confirm the great mobility of the rare animals. "For their effective protection is therefore vital to maintain a permeable landscape so the animals can move without risk over long distances," ALKA Wildlife stated.

Luděk is not the first traveler lynx discovered by international zoologists. The animals know no borders, and some 60 to 80 lynxes cross the Czech-Bavarian-Austrian border on a regular basis.

Another lynx was photographed autumn 2012 in Austria near the Danube and in May the following year in the Blanský les protected landscape in South Bohemia. Young male lynxes are increasing searching out new territories, ALKA Wildlife noted.
Friends of the Earth are able to carry out projects on protection and monitoring of large carnivores thanks to generous support of individual donors – Friends of Large Carnivores. Please join us here.